4 tags
Swap, Don't Shop! **This Weekend**
Photo: Redress Raleigh Redress Raleigh - Swap, Don't Shop! Spring/Summer It's time for another seasonal clothing swap where you can unload your no-longer-wanted items and load up on new-to-you goodies! Women's, men's, and children's clothing and accessories - No housewares, please!  When: Sunday May 19th Time: Bring items: 1:00 - 1:30pm; Swapping: 1:30 - 3:00pm Cost: $10 Where:...
6 tags
Muu Muu Redo aka My Fab New Tiki Dress!
Many of you know that I love (LOVE) vintage Hawaiian dresses. The colors, prints, & textures make a dreary day (like today) practically disappear. Recently I purchased this vintage muu muu online. While the colors and print are phenomenal, the style is well…..not exactly flattering. Photo by Tbonitastyle on Etsy So I busted out my trusty seam ripper, tore that bad girl up and...
6 tags
The Handmade Market * Sat May 4th
This Saturday some of my favorite local designers will be included The Handmade Market in downtown Raleigh. Stop by and check out Judah Ross, Leopold Designs, House of Swank, and many more!  Hope to see you there!  xoxox * Margo
"she had a cocktail in hand and confetti in her hair"
– ….story of my life
4 tags
Redress Raleigh Recap: An Insider Perspective
Recently, when asked what my favorite part of the Redress Eco-Fashion & Textiles Conference was, I found myself replying, "Meeting really interesting people who are doing amazing things." These people weren't just talking about doing something, they were actually making a change. What kind of people & change? For instance, projects like Aly Khalifa of Lyf Shoes, where a shoe is made of...
Why Buying Local is Worth Every Cent
Click to Enlarge Image Why Buying Local is Worth Every Cent Infographic by CustomMade
7 tags
10th Annual Appetite 4 Art Gala Event featuring a...
The Young Advocates of the Boys & Girls Clubs of Wake County and members of the Historic Glenwood Neighborhood Association are hosting the Triangle's premier event benefiting The Boys & Girls Clubs of Wake County.    The 10th annual Appetite 4 Art event will take place on Thursday April 11, 2013 from 7 until 11 p.m. at Marbles Kids Museum in downtown Raleigh. Guests are invited to enjoy...
"Some women hold up dresses that are so ugly and they always say the same thing:..."
– Rita Rudner
Redress Raleigh's fifth anniversary was an...
March 28, 2013  /  Redress Raleigh by Jane Porter and D.L. Anderson "A parade of little girls kicked off Redress Raleigh's fifth annual Eco-Fashion Show at the downtown Raleigh Marriott hotel Saturday evening. The kindergarteners strolling down the runway wore periwinkle blue dresses that once were button-down shirts, and each held a floating balloon on a long sateen string. ...
5 tags
Appetite 4 Art Preview Party! - Thurs 3/14
Come support Appetite 4 Art at our Preview Party! There will be free appetizers, music, chance to preview auction items, and a raffle featuring some great items! On Thursday, March 14th, the Boys and Girls club will be holding a preview party at Coglin's from 6 – 8 p.m. The event will be catered by Joel Lane's Public House and we will be previewing Appetite 4 Art auction items, as well as,...
5 tags
Redress Eco-Fashion & Textiles Conference
Only 10 Days Away!!! Join thought leaders and change-makers within the fashion & textiles industry! Redress Raleigh is bringing together a stellar group of featured guests who will travel from near (Raleigh) and far (Amsterdam) for the Eco-fashion and Textiles Conference March 23 - 24. This diverse array of industry leaders includes contributors to organizations such as Huffington Post, New...
"In most cases, our so called limitations are nothing more than our own decision..."
3 tags
7 tags
Awesome Fabric Sale * Sat 2/9/13
I downsized my studio and am clearing out. Come and peruse my collection of vintage, modern, and home decorator fabrics. There will be pieces of all lengths and varieties, from scraps to bolts/rolls of 10+ yards. Everything will be priced well below retail. This sale is open to the public, so invite your design friends, quilting friends, costumers, DIY fashionistas, fabric hoarders, and all who...
4 tags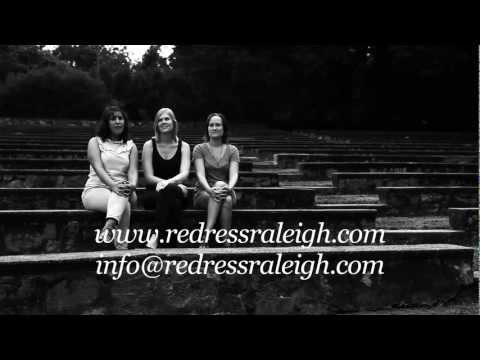 7 tags
Zombie Fashion Show? Yes!!!
I am super excited to announce my first behind-the-scenes project with Redress Raleigh - Redress the Dead! I am lucky enough (and/or crazy enough) to be the creative director for the show and I couldn't be more excited. I mean, how often do you get to combine fashion, theatrical performance, and zombies?  We teamed up with with Pickle Mamas, Cirque de Vol, talented makeup artists and...
CALL FOR DESIGNERS! REDRESS THE DEAD FASHION SHOW...
HAPPENING NOW!  A FEATURED EVENT OF RALEIGH LIVING DEAD IN COLLABORATION WITH CIRQUE DE VOL STUDIOS Saturday, October 27th, 2012 City Plaza, Downtown Raleigh  4:00pm - 11:00pm, Fashion show starts at 8:00pm   This coming October the city of Raleigh will experience its first annual Raleigh Living Dead, an inaugural Halloween Festival hosted by Gumption. The festival will feature live music, a...
Watch
Here it is! The reFASHIONED runway show video. Check it out!
"Fashion passes, style remains"
 In honor of Coco Chanel's birthday on Sunday, our favorite images of Chanel in Vogue: http://t.co/0EIkCJnc
3 tags
2 tags
2 tags
3 tags
fashionSPARK - Sept 7th, Downtown Raleigh
The fashionSPARK Fashion Show, will be in it's 7th year this September. It is the largest and most popular annual fashion event in the Triangle! fashionSPARK, part of the SPARKcon potluck of creativity, showcases the area's top local fashion talent! Fashion Show Thurs, September 13, 8pm – 9pm Raleigh Downtown Amphitheater The show is free and open to the public.
5 tags
4 tags
Last day of Facebook...
Yep, you read that right. I am logging off and disabling my Facebook account later today. Why today and not another day? Well, I would have logged off a week ago but as the administrator for my Rocket Betty page I needed to stay on to tie up a few loose ends. Today, however, it's over and I couldn't be happier. Yes, I'll miss out on the day to day sick kid updates, feelings,...
4 tags
Media Coverage with Photos for the reFASHIONED...
We had so much awesome media coverage that I thought I would list them all here.  Be sure to check out all the fantastic photos in the links!  xoxox "Durham Style is Refashioned to Kill" via Wear in the Triangle. WRAL "reFashioned Recap" and slideshow! The Bull City gets "reFASHIONED" by Carolina Style Magazine. Fab photo gallery from Triangle.com!  The...
5 tags
5 tags
Watch
I am excited and honored to be a part of this video and, of course, the 2012 Redress Raleigh runway show! Take a peek… (we were lucky enough to be featured throughout!)  xoxox Video by Shannon AKA Clementine
6 tags
7 tags
Awesome clip from a 1950's swimsuit factory... →
5 tags